LIFE SYNERGY CENTRE VISION & PRINCIPALS (Basic Overview)
Our aim is to create a self-sufficient and self-sustaining community, free from outside interference, based on natural law and natural living, mixed with the best of eco-friendly and free-energy technologies. Also integrating lifestyle practices which support living consciously, free from societal programming, for the well-being of all.
– Life Synergy Centre project
FREEDOM FROM THE CURRENT SYSTEM
There are many of us who believe that humanity is in a great transformational period in its evolution, and that a choice must be made between a world of potential control and destruction or a world of harmony and evolution. The Life Synergy Centre is not a profit making venture, nor is it a business or career move, it is a project arising out of a great necessity by the collective of humanity for urgent change. The Life Synergy Centre is simply a way to help facilitate that change, but ultimately the change comes from each
individual and community.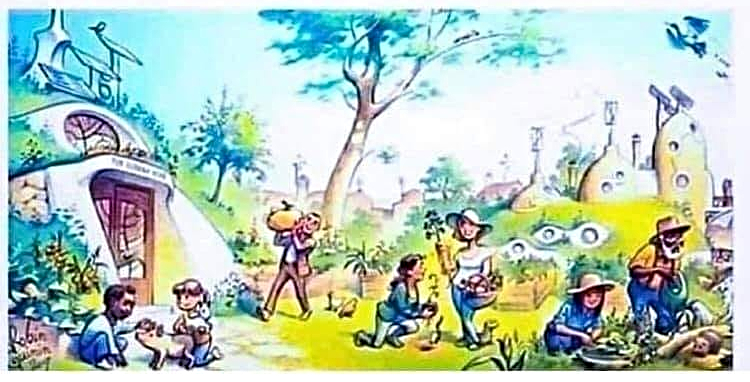 THE VISION
The best way to change a system is to create your own…
We are currently working with and looking for a team including quantity surveyors, architects, builders, building engineers and agriculturalists to plan the creation of the self-sufficient Life Synergy Centre, based in England, with our own land and resources, operating under Natural Law, free from the current system. The Life Synergy Centre project aims to channel humanities collective energy to create a new way of life that actually serves each individual, and humanity as a whole, in its
conscious evolution, well-being and human potential.
THE CURRENT SYSTEM CREATES TRUE INEQUALITY!
The wrong distribution of wealth and resources has created greater and greater divides and suffering for humanity.
IT'S TIME TO COMPLETELY CHANGE THIS PARADIGM THROUH SELF-SUFFICIENT COMMUNITIES.
ARE YOU WITH US?
The current system doesn't work to free people, or even evolve people, it only works to bind and limit people. It doesn't serve the many but instead only serves the few. This has to change if humanity is to take its next steps toward conscious evolution, in this special time we are now in! A new age is upon us and we must make a choice.
The current system has been designed so that you can't change it from the inside, but that doesn't mean that you can't create your own way of life independent from it. You live in something called "society", but what really is society other than a group of people who are consenting to live by a certain set of rules and criteria?
The current system would have you believe that there is no other choice, but that is simply not true. You are a free being with an inherent natural right to live in accordance with nature independently. You have the inherent right to live on the land and be self-sufficient, and that's exactly what the Life Synergy Vision is all about. We believe in Natural Law, natural living with technology, and living in a natural state of being beyond mental
programming. We are looking for like-minds that believe the same also.
PHASE 1 of the Life Synergy Centre Project
Phase 1 is very simple, literally starting from the ground up, we are looking for 50 people to have an equal share in a plot of land in England. This phase is just for the land only and not accommodation. The land has not yet been decided because we can't single out a particular piece of land until we have raised the funds first, but we are currently looking at land in the beautiful Lincolnshire Wolds, east England. (See picture below for some of the plots available).
So here's our simple phase 1 plan:
Create a funding page campaign which keeps your money safe and secure until the target is
reached
Raise £250,000 (£5,000 per 50 people for an equal share in the land)
Use an estimated £200,000 for the land and whatever is leftover as a surplus to get started
on the land
Buy a piece of land (usually around 20 – 30 acres for that price)
Create a contract between all of the 50 equal holders of the land
Transfer the land over into a common law jurisdiction, beyond the legal system, through
the common law court (see the common law court at this link – https://www.commonlawcourt.com/
OPERATING IN TRUE COMMON/NATURAL LAW

You were born as a free being of this earth, who has the inalienable right to operate in natural law, living from the land to survive and even thrive. The current system however, through the legal system and other departments, has sought to take these inalienable
rights away from you, for control over the people and resources of the earth. It goes without saying, but this is wrong and completely unjust, and it needs to change before
things get worse.
Returning back to the ways of common/natural law is vital for humanity to stand on its own two feet and be free from the influence and control of the current system. Registering with the people's common law court is a lawful remedy to do just that, thus claiming yourself as a living man or woman in common/natural law.
Here is an excerpt from the common law courts website:
"The truth is that throughout everyday life, people everywhere use and rely on Common Law to live and work together. It is simply the inherent way that people conduct their affairs together. Liken it to the roots that bind together human communities by unconditionally upholding the life, dignity and well-being of every man, woman and child. These roots are especially necessary and foundational in the face of powers that seek to subvert such natural freedom."
To extend our everyday reign of Common Law into all areas of life means to challenge the arbitrary rule. But the very fact that it is the Law of we, the vast majority of humanity, means that it only needs to be consistently practiced by enough of us to allow the Sheriff Officers and the authorities to enforce."
Visit the common law court for more information about who they are and what they do –
https://www.commonlawcourt.com/
Here are a couple of definitions of what a society is – "an organization or club formed for a particular purpose or activity." or "a body of individuals living as members of a community; community." So a society is made up of members, but were you ever directly asked to join the current society? No, right?
This means that people have the free choice to leave a society any time they wish, as ultimately a society is only an idea, not a physical reality that is attached to a piece of land in the natural world. In future articles and newsletters we will cover this topic in much
more detail, but it is important that you know, that the Life Synergy Centre project is much more than just about sustainability, community and self-growth, it is also about returning back to the true power we have as sovereign human beings of this earth.
It's time to return back to our true power in all areas of life and thrive!
Here are just three different certificates you can file with the common law court:
(Names and address have been removed for privacy purposes).
Below are copies of "fictitious name" ownership, common law court "birth certificate" and
"motor vehicle" ownership under common law.
The 7 Core Traits we are looking for in the 50 founding members
Firstly, what is the Life Synergy Centre's mission?
We are currently working with, and looking for, a team including quantity surveyors, architects, builders, building engineers and agriculturalists to plan the creation of the self-sufficient Life Synergy Centre, based in England, with our own land and resources, operating under Natural Law, free from the current system.
NOTE: We are also looking for volunteers to work with us who are skilled in project management, admin and promotion. Please contact us here if you resonate with our vision and are interested in helping out – christopherjaismith@gmail.com
A NEW APPROACH FOR A NEW TIME
We believe that the world is rapidly changing, and that we are standing on the cusp of a radically new time period in human history! A great SPLIT is happening on the planet, between people of a higher and lower frequency (love and fear). There is no judgement in this, it's just what is happening at this time, and we believe that ultimately this is for the greater good of the planet and humanity as a whole. This split is helping people further develop and grow, which will lead to a newly awakened and more evolved humanity. As the current system stands, it is evident that it is becoming more restrictive and controlling. That is clear for many people to see. For others it is not so clear, as they are still mostly operating from societal programming. Naturally, a new WAY is emerging to balance the scales. A way of more freedom, authenticity, self-sufficiency and inner growth.
The creation of this new way depends upon those people who are conscious enough to see the truth and act upon it. The Life Synergy Centre vision cannot be created without those people. The Life Synergy Centre's mission is to support and lead this positive transformation, offering a new template of living to be available to others up and down the country and around the world. Eventually leading to an interconnected network of self-sufficient communities, sharing information, resources, support and wisdom. We are looking for people that are spiritually minded and interested in total well-being. We have come to realize that every community on the planet is only as harmonious and successful as the quality of people it is made up of, because every person is a part of a whole, that determine the overall quality of the whole. That's how powerful and important each person is!
We believe what determines the true quality of a person is their level of consciousness and frequency, and at least the willingness to increase it. In large its about true self-responsibility, which is what the current system has refused to give you. It limits the decisions you can make in your life, thus taking away your ability to be responsible, like a
parent who never lets their child develop independently. It is clear that the reason why societies fail or become tyrannical, is not just because of a few individuals, but because the masses tend to give away responsibility for their own life, health and level of consciousness to someone else. By not taking responsibility, their power is given away to the few, who are happy to control it. If we don't want to repeat history, then it is imperative that we remind ourselves of this and create a new way of life, both externally and internally. We know that true change can only begin within.
LIFE SYNERGY CENTRE (Community) PRINCIPALS:

• Living self-sufficiently, independent from the current system
• Working with new technologies in conjunction with nature and natural living
• Living in accordance with natural law, not the legal system (very important)
• An interest in self-responsibility, authenticity, well-being, spiritual awakening and self-growth
QUALITIES AND INTERESTS OF THE FOUNDING MEMBERS
We are looking for people who are:
• Aware of the flaws in the current societal system
• Officially on, or earnestly aspiring to be on the Spiritual Awakening Path
• Interested in self-sufficiency, sustainability and self-responsibility
• Have a strong resonance and belief in the Life Synergy Centre vision (As mentioned above)
• A desire and willingness to serve others in the community and those outside the community who want to liberate themselves from the current system
• Either currently participating in, or earnestly interested in, total inner well-being
• A sense of honor and integrity to do what is right
CONCLUSION
If the projects vision and principals resonate with you, and you'd like to get involved, simply email us at – christopherjaismith@gmail.com to find out how you can get involved or become one of the founding members.
Or join up to the free newsletter here – https://www.christopherjaismith.com/freenewsletter/

HOW TO SUPPORT US
If you would like to work with us and offer your expertise for the project, then contact us at – christopherjaismith@gmail.com
Life Synergy Centre Project – Initial resources fundraiser
Would you like to take part in weekly online meditation and well-being classes to raise money for the Life Synergy Centre project?
"TUNE-UP YOUR FREQUENCY"
Join us for "weekly themed" meditations for all levels. What the fundraiser is about. This fundraiser is for the Life Synergy Centre project. As some of you may know, our plan is to buy a large plot of land in England, and build a self-sufficient, sustainable, spiritual and well-being community.
This "Initial resources fundraiser" is for the purpose of raising money to go towards crucial funds, to create a meeting space, well-being programme marquee, toilets, water source, basic farming equipment, road, carpark and yurts for our founding members, volunteers
and the general public. Click here to find out more on the funding page –
https://www.collectionpot.com/pot/113863/
100% of the donations for these classes go towards our Life Synergy Centre initial
resources fundraiser. See here for more information on the funding page –
https://www.collectionpot.com/pot/113863/
Join Christopher for weekly online Synergy Meditation classes starting on Wednesday the 10th of March. Reduce stressful thoughts and increase your mental and physical well-being, and connect evermore deeply with the core of who you really are beyond the body-mind