Herbal Supplements and Remedies
All supplements are sourced from a reputable and professional UK company that specializes in herbal supplementation. They are a premium supplier of quality organic and non-organic health foods, food supplements, vitamins, minerals and herbal formulations to customers across the world. They are based in the United Kingdom and have been trading since 1995.
Christopher provides supplementation is to give people the opportunity to increase their health and life-force-energy to support them on the Spiritual Path, and to generally increase the richness of their everyday life experience. Healthy diet and lifestyle choices are always the foundation, but not every has access to the nutrient rich foods they may need. Supplementation is not there to replace a healthy diet, but it is their to significantly aid in that process.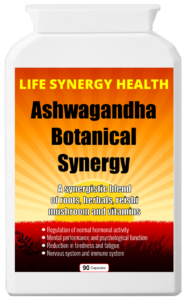 Ashwagandha Botanical Synergy is a synergistic combination of herbs, roots, reishi mushroom and vitamins, formulated to combat stress and adrenal fatigue, while also supporting the immune system, energy levels, mental performance and a general sense of calm, focus and vitality.
Ashwagandha Botanical Complex works best when combined with adequate rest and sound nutrition, and offers excellent support for those who wish to put their body back in balance, restore immunity and reinvigorate their energy levels to combat life's daily physical and mental stresses.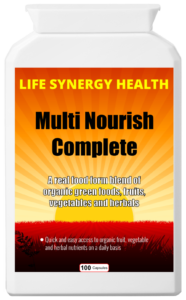 Multi Nourish Complete is a comprehensive a Soil Association certified organic whole food supplement, with some of the most nutrient-dense ingredients that nature has to offer: Pre-sprouted activated barley, alfalfa, barley grass, beetroot, bilberry fruit, carrot, dandelion root, green tea leaf, kelp, lemon peel, spinach leaf, spirulina, turmerica and wheatgrass.
The broad-spectrum nutrients (which include phyto-chemicals, enzymes, dietary fibre, beneficial oils, antioxidants, vitamins and minerals) are easily absorbed and used by the body, as they are in their natural food form and balanced state.